Tym razem członkowie i przyjaciele IFMR Polska spotkali się na Żuławach. W pięknym Hotelu Nowa Holandia położonym na obrzeżach Elbląga, pod nadzwyczaj troskliwą opieką naszych gospodarzy – Gosi i Grzegorza Twardowskich.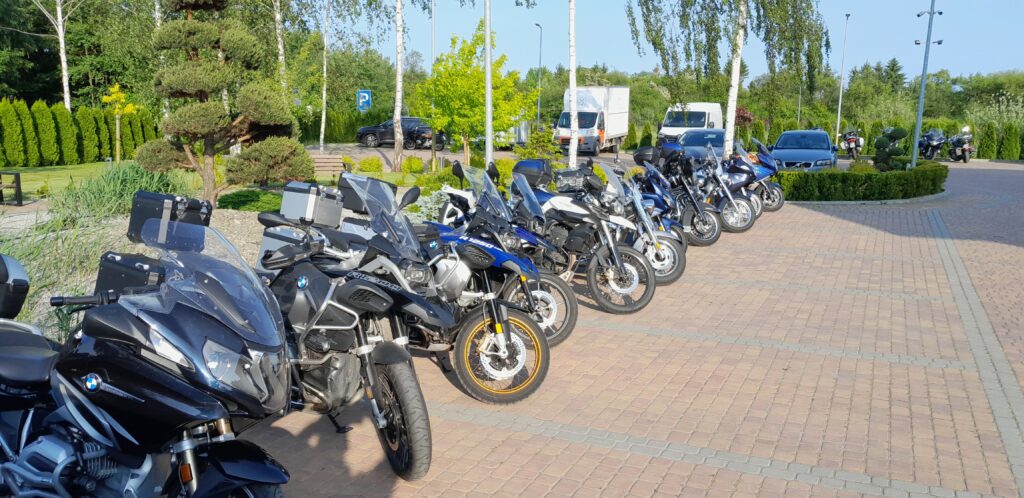 Gościliśmy również Rotarian motocyklistów z Niemiec, Szwecji i Danii.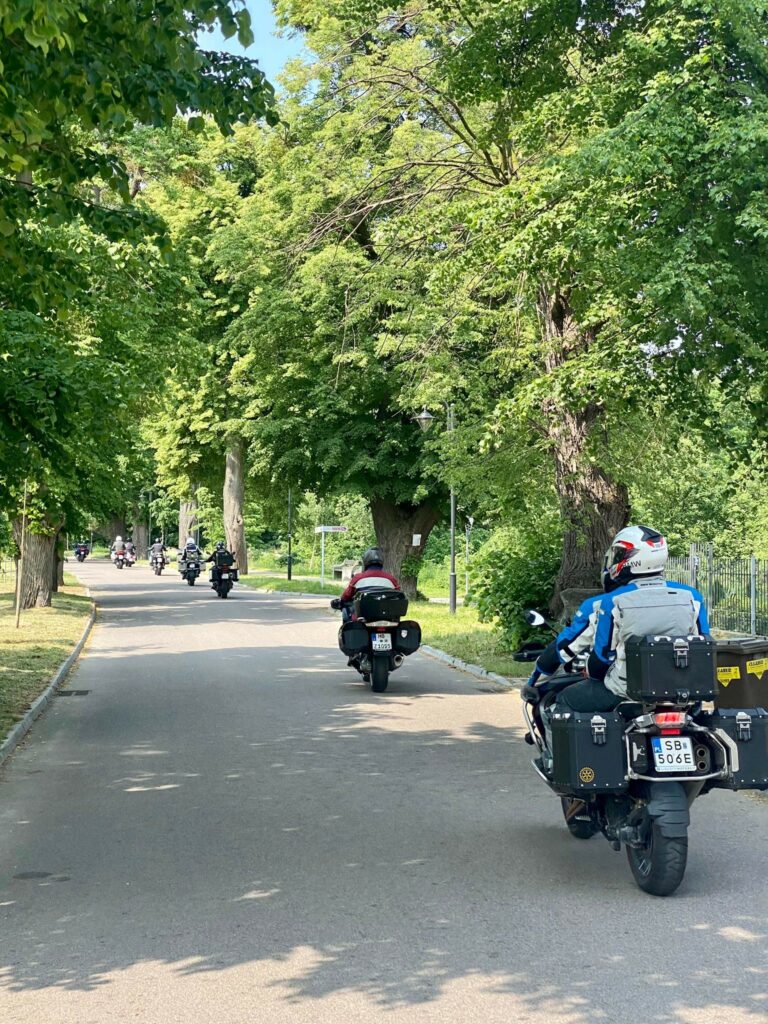 Odwiedziliśmy Kadyny i Frombork. Wysłuchaliśmy tam w katedrze koncertu organowego. Największą atrakcją tego dnia był przejazd kanałem Elbląskim, gdzie nawiązaliśmy sympatyczny kontakt z grupą rowerzystów ze Szczecina, którzy towarzyszyli nam wzdłuż całej trasy.
Drugi dzień rozpoczęliśmy od oglądania pracę przekopu Mierzei Wiślanej. Potem przeprawiliśmy się promem przez Wisłę na jej zachodni brzeg. Ostatnim punktem programu było zwiedzanie Zamku w Malborku.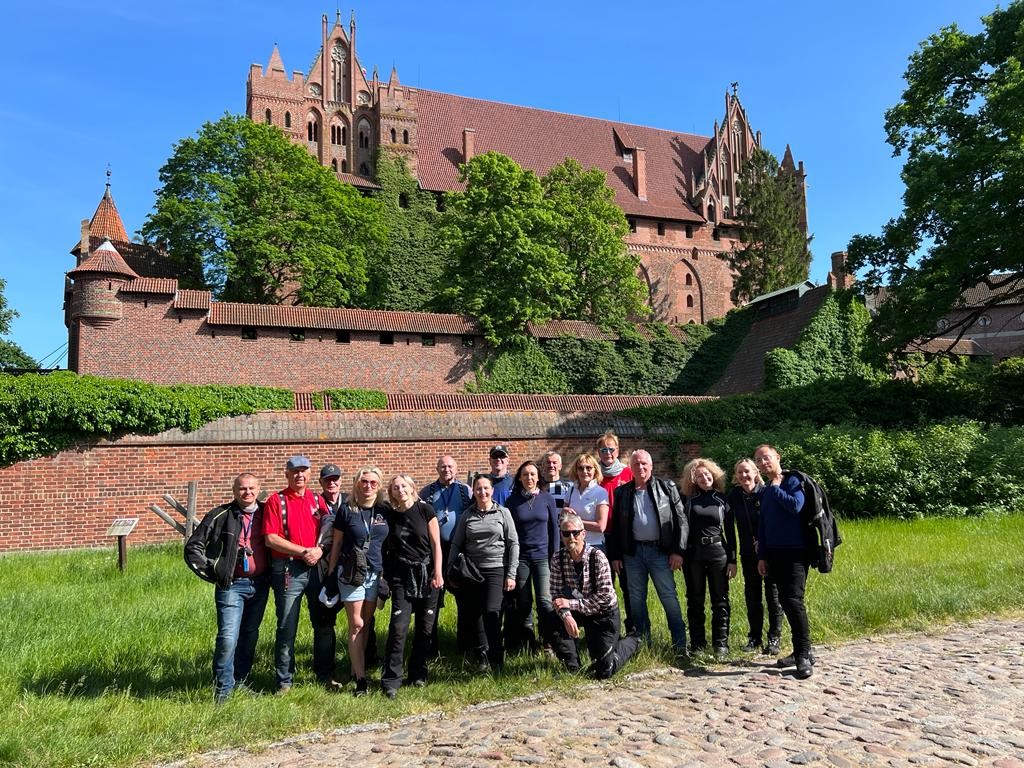 Wieczorem pożegnalna uroczysta kolacja, której atrakcją było wyśmienite pieczyste z dzika przywiezione prosto z Borów Tucholskich.
Ostatniego dnia przy śniadaniu celebrowaliśmy urodziny jednego z naszych przyjaciół – Alexa. Stosowne życzenia odśpiewane były kolejno po polsku, duńsku, szwedzku i niemiecku.
Rozstawaliśmy się jak zwykle z poczuciem szybko mijającego czasu, będąc pod wrażeniem wspaniałej organizacji zapewnionej przez Gosię i Grzegorza i umawiając się już na kolejne rajdy.
Tradycją naszych rajdów jest udział w charytatywnej aktywności lokalnych Rotarian. Tym razem uzbieraną kwotą około 1350 € wsparliśmy projekt przedstawiony przez Ilonę Nowacką z RC Elbląg Centrum, którego członkiem jest również nasz gospodarz – Gosia Twardowska. Jest to wyposażenie ośrodka Pogotowia Opiekuńczo – wychowawczego w Elblągu, w którym przebywają dzieci zabrane w efekcie interwencji z domów rodzinnych.
English version:
This time, members, and friends of IFMR Polska met in Żuławy. In the beautiful Hotel Nowa Holandia located on the suburbs of Elbląg, under careful care of our hosts – Gosia and Grzegorz Twardowski.
We also hosted Rotarian motorcyclists from Germany, Sweden, and Denmark.
The excellent welcome dinner immediately created a cordial, friendly atmosphere that accompanied us until the very end.
On the first day, the route led through picturesque fields along winding local roads. We visited Kadyny and Frombork, where we listened to an organ concert in the cathedral. The biggest attraction of the day was the ride along the Elbląg Canal, where we made friendly contact with a group of cyclists from Szczecin who accompanied us along the entire route.
We started the second day by watching the work of the Vistula Spit ditch. Then we took a ferry across the Vistula River to its western bank. The last point of the program was visiting the Malbork Castle.
In the evening, a farewell gala dinner, the highlight of which was delicious wild boar meat brought straight from Bory Tucholskie.
On the last day at breakfast, we celebrated the birthday of one of our friends – Alex. Appropriate wishes were sung successively in Polish, Danish, Swedish and German.
As usual, we say goodbye with the feeling of time passing quickly, being impressed by the great organization provided by Gosia and Grzegorz and already arranging for the next rallies.
The tradition of our rallies is to support the charitable activities of local Rotarians. This time around 1350 € we contributed to the project presented by Ilona Nowacka from RC Elbląg Centrum, of which our host – Gosia Twardowska is also a member. It is the equipment of the Emergency Care and Educational Center in Elbląg, where children taken from family homes because of intervention are staying.
Text: Michał Marzec

FILM
Hits: 392