Pierwszy Tour IFMR Polska w 2022r organizowali Janusz Potępa i Tomasz Zientarski w Małopolsce.
Większość nas przyjechała już w środę 8 czerwca do gościnnego hotelu Petrus na przedmieściach Krakowa. Nie odstraszyła na tradycyjnie pesymistyczna prognoza pogody.
Pierwsza trasa, następnego dnia, poprowadziła nas malowniczymi drogami Jury Krakowsko-Częstochowskiej. Odwiedziliśmy między innymi urocze miasteczko Lanckorona, klasztor w Kalwarii Zebrzydowskiej i Czernej, gdzie zjedliśmy obiad oraz pięknie położony zamek w Pieskowej Skale.
Kolację zdjedliśmy z pięknym widokiem na Wawel, a ukoronowaniem dnia był dedykowany nam koncert w Jazz Club u Muniaka.
Tradycyjne wieczorne pogaduchy trwały w hotelu do późna.
Niestety wszystkie prognozy na kolejny dzień były bardzo złe. A zaplanowana była długa trasa na południe. Zdecydowaliśmy więc o zmianie programu.
W efekcie w piątek rano część z nas pojechała zwiedzać kopalnię soli w Wieliczce, a cześć na krótką przejażdżkę do Pustyni Błędowskiej. Po południu już w niemal pełnym składzie udaliśmy się na podbój Krakowa. Miasto musiało stawiać silny opór, skoro niektórzy z nas wrócili bardzo późno i nieco wyczerpani…
Kolejny dzień przyniósł ładną pogodę i jazdę bardzo piękną okolicą i krętym drogami w stronę Tatr. Dłuższy postój wypadł w Niedzicy. Niedługo potem smakowaliśmy wyśmienitego pstrąga w gospodarstwie agroturystycznym. Konsumpcję uświetniła niespodziewana obecność Koła Gospodyń Wiejskich, którego członkiniami okazały się nasze Panie, przywdziewając lokalne, misternie haftowane chusty.
Atrakcją dnia był przejazd świetnie utrzymaną górską trasą rajdową, na której można było sprawdzić swoje umiejętności.
Wieczorem, w trakcie uroczystej kolacji mieliśmy okazję gościć Marka Wcisło – naszego Gubernatora Nominata 2023/2024.
Jako tradycyjnym projekt charytatywny, w tym szczególnym czasie, zgłoszona została przez Prezydenta IFMR Polska – Michała Frelichowskiego pomoc Ukrainie za pośrednictwem RC Zamość Ordynacki.
Generalnie pomimo bardzo złych prognoz pogoda dopisała. A humory tym bardziej. Jak zwykle!
Wielkie podziękowania dla Janusza i Tomka za wspaniałe dni w Małopolsce!
Do zobaczenia!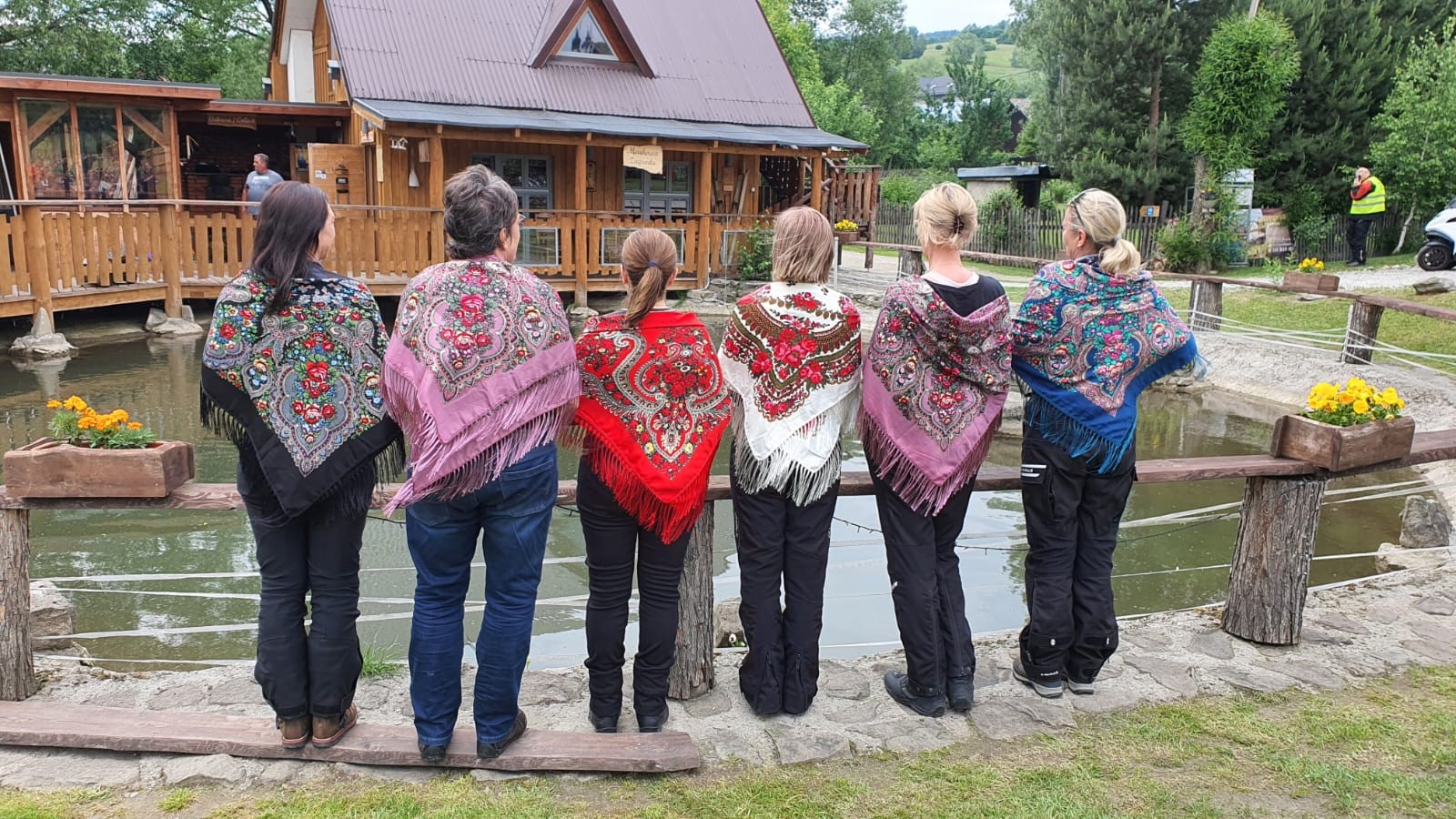 The first IFMR Poland Tour in 2022 was organized by Janusz Potępa and Tomasz Zientarski in Małopolska.
Most of us arrived on Wednesday, June 8, to the hospitable Petrus Hotel in the suburbs of Krakow. despite the traditionally pessimistic weather forecast.
The first route, the next day, took us along the picturesque roads of Jura Krakowsko-Częstochowska. We visited, among others, the charming town of Lanckorona, the monastery in Kalwaria Zebrzydowska and Czerna, where we had lunch, and the beautifully situated castle in Pieskowa Skała.
We had dinner with a beautiful view of the Wawel Castle, and the highlight of the day was a concert dedicated to us at the Jazz Club at Muniak's.
Traditional evening talks lasted until late in the hotel.
Unfortunately, all forecasts for the next day were very bad. And there was a long route to the south planned. So we decided to change the program.
As a result, on Friday morning, some of us went to visit the salt mine in Wieliczka, and some for a short drive to the Błędowska Desert. In the afternoon, almost in full force, we went to conquer Krakow. The city seemed to put up a lot of resistance, since some of us came back very late and a bit tired …
The next day brought nice weather and a drive through a very beautiful area and winding roads towards the Tatra Mountains. A longer stop was in Niedzica. Soon after, we tasted delicious trout on an agritourism farm. Consumption was graced by the unexpected presence of the Rural Housewives' Association, whose members turned out to be our ladies, donning local, beautifully embroidered scarves.
The highlight of the day was a ride on a well-kept mountain rally route, where you could test your skills.
In the evening, during the gala dinner, we had the opportunity to host Marek Wcisło – our Nominee Governor 2023/2024.
As a traditional charity project, at this special time, the President of IFMR Poland, Michał Frelichowski, proposed to help Ukraine through RC Zamość Ordynacki.
Generally, despite very bad forecasts, the weather was good. And the moods even more. As usual!
Many thanks to Janusz and Tomek for wonderful days in Małopolska!
See you later!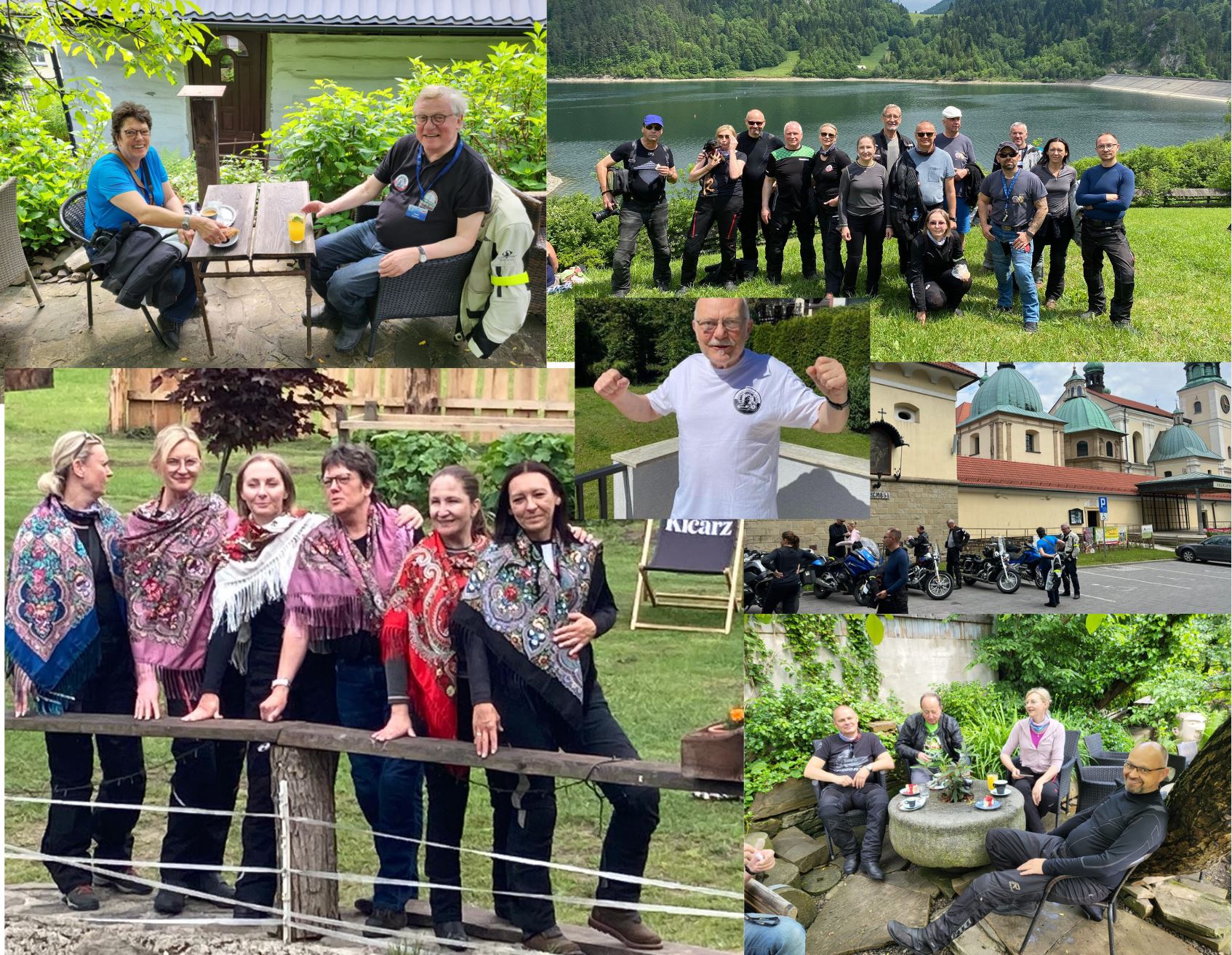 Hits: 405