W dniach 20-23 czerwca 2019 Rotarianie motocykliści zrzeszeni w IFMR Polska spotkali się na kolejnym Rajdzie Motocyklowym. Tym razem za sprawą Tourmaster Janusza Babicza i przyjaciół z RC Lublin Centrum gościliśmy w Hotelu Botanic, położonym w bezpośrednim sąsiedztwie Ogrodu Botanicznego w Lublinie.
Janusz zaplanował bogaty program zwiedzania Roztocza Lubelskiego i Pojezierza Włodawsko-Łęczyckiego.
Przez dwa dni odwiedziliśmy między innymi: piękny Pałac Zamojskich w Kozłówce, cudowny Zamość gdzie powitali nas Rotarianie z RC Zamość Ordynacki oraz Witold Paszt (grupa VOX) i aktor Marek Siudym, skosztowaliśmy wspaniałego pstrąga w restauracji Roztoczański Pstrąg oraz zostaliśmy ugoszczeni ciastem i kawą u Marka Danelczyka w jego Dworze w miejscowości Sobibór.
Łącznie podczas Rajdu "nawinęliśmy" na koła naszych motocykli ponad 500 km w pięknym słońcu ale także w deszczu i gradzie, na szczęście wieczorami goszczący nas Hotel Botanic witał nas wspaniałą kuchnią i lokalnym piwem co dało okazję do wymiany wrażeń i snucia planów na kolejne wyjazdy motocyklowe. Tradycyjnie już wsparliśmy lokalną społeczność zbierając środki na zakup dwóch pomp infuzyjnych z kompletnym wyposażeniem do żywienia pozajelitowego, dzięki tym pompom poprawi się komfort życia podopiecznych stowarzyszenia "Mogę Żyć".
Tomasz Wiszniewski
IFMR Polska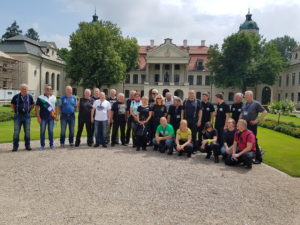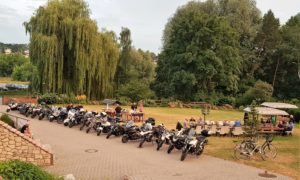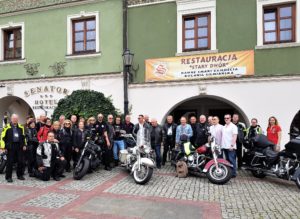 On 20-23 June 2019 Rotarians motorcyclists united in IFMR Polska met at the next Motorcycle Rally. This time, thanks to Tourmaster Janusz Babicz and friends from the RC Lublin Centrum, we were staying at the Botanic Hotel, located in the immediate vicinity of the Botanical Garden in Lublin.Janusz planned a rich program of visiting the Lublin Roztocze and the Włodawsko-Łęczyca Lakeland.For two days we visited, among others: the beautiful Zamojski Palace in Kozłówka, the wonderful Zamość where the Rotarians from RC Zamość Ordynacki and Witold Paszt (VOX group) and actor Marek Siudym greeted us, we tasted the wonderful trout in the restaurant Roztoczański Pstrąg and we were treated to cakes and coffee at Marek's Danelczyk in his court in Sobibór.In total, during the Rally, we "ride" on the wheels of our motorcycles over 500 km in the beautiful sun but also in rain and hail, thankfully in the evenings the Hotel Botanic welcomed us with great cuisine and local beer which gave the opportunity to exchange impressions and make plans for the next motorcycle trips . Traditionally, we have supported the local community by collecting funds for the purchase of two infusion pumps with complete equipment for parenteral nutrition, thanks to these pumps, the comfort of the charges of the "Mogę Żyć" association will improve.
Tomasz Wiszniewski
IFMR Polska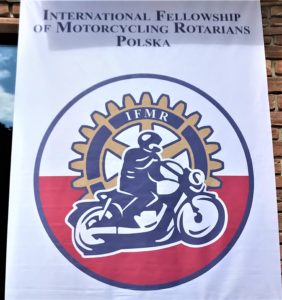 Hits: 554